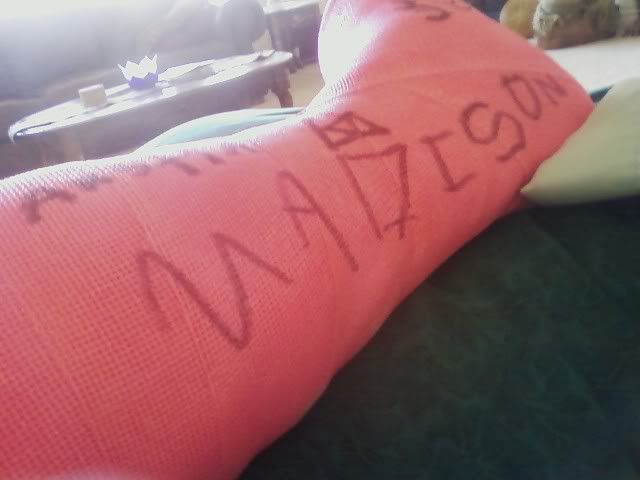 This is why I haven't updated in over a month.
I finally got up the courage to put on my roller skates at derby practice, I was getting tired of just observing all of the time, and I thought to myself "what's it going to hurt??" After about an hour and ten minutes of skating rather well for someone that never skated as a child (I went to a roller rink maybe 3 times in the first 26 years of my life), I fell down and broke my ankle in a spiral fracture.
There's a long drawn out story of all of my experiences, but I'll summarize.
-Broke my ankle at about 8:10 PM on the 18th.
-Went to Clovis Urgent Care the next day. They sent me off with someone else's chest x-rays, not my ankle x-rays.
-They sent me to a doctor that was really quite a jerk, Shantharam or something like that. When I was drugged up on Darvocet and therefore a little incoherent, I asked him to explain to me again what kind of break I had, he yelled at me in his super thick accent "DO I REALLY NEED TO EXPLAIN IT AGAIN?" Then he looked at Alan and asked him if he understood, "COULD YOU EXPLAIN TO HER?" Jerk. I would not recommend ANYONE to go to him unless you want to be treated like a moron. Oh yeah, and he couldn't do anything for me. No cast, but his nurse put a really crappy splint on me that offered ZERO support. He said "you need surgery, go to the hospital."
-I went to Fresno Community Hospital right after I left that doctor and spent about 4 1/2 hours there. They put me in a new splint, and it was excruciating.
-Then the doctor at the ER told me I needed to have surgery and that I had two breaks...
-Then I went to the Surgery Center (Monday last week). No, just one break, it's a spiral fracture, surgery not necessarily required. They put me in a cast to attempt to avoid surgery.
-Wednesday this week I went back for more x-rays and to check the progress of my ankle to see if everything is still healing right and if we can avoid surgery. I'm going to have to cast for another 4 weeks and hopefully that will be the end of it.
Lesson learned: Klutzes shouldn't roller skate, especially if they don't have health insurance.
I got a letter from Fresno Community Hospital the other day and I totally expected it to be a bill. Instead, it was notifying me that the hospital's charity fund covered my ER visit. $2632.47 I don't have to pay.
So far I've paid...
-Clovis Urgent Care: $254 (x-rays) $137 (to see doctor)
-Shantharam: $250-something (I don't remember off the top of my head, but that was to see the doctor and $70 for x-rays)
-Crutches: $42
-Various prescriptions: $15, $17, $18
-Surgery Center: $80, $80
-X-rays at ER: $32
Yeah, and I'm not even out of the tunnel yet.
Oh and I want to let you all know how fabulous my boyfriend is. I broke my ankle the Tuesday after my parents left to Hawaii. Jared stayed with me the whole time that they were gone, minus one day, that my grandma came over to keep an eye on me and he could go see his family.
But still, he spent basically two weeks straight with me, taking care of me!
He's a keeper!!